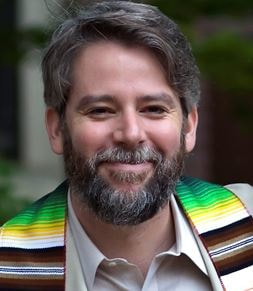 POSTPONED DUE TO SANTA ROSA FIRES
Michael Hale
How Trump Won the Election

How was Donald Trump elected the 45 th President of the United States? Was it the disgruntled white working class looking for a populist savior? Was it hatred of women and anti feminist attitudes? Was it the death cries of white supremacy fearful of demographic changes? Did the Democrats choose the wrong candidate in the primary? Or, do each of these singular casual analyzes have limitations that obscure a clearer understanding of this election? Dr. Michael Hale will critically evaluate these common theories and provide his own analysis.

Dr. Michael Hale's Ph.D. is an English professor at Santa Rosa Junior College. Originally from Los Angeles, he completed his BA and MA in English at Cal State Northridge where he studied American literature along with Chicano/a Studies and Central American Studies. He moved to Ohio to finish his PhD in American Culture Studies. His dissertation focused on post-WWII social movements in the United States with an emphasis on explaining the realignment of the New Deal voting coalition, specifically the role of the white working class union voter in the 1972 re-election of Richard Nixon.
---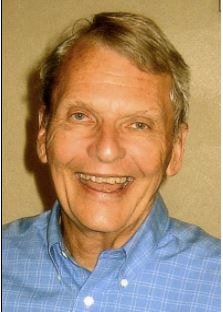 POSTPONED DUE TO SANTA ROSA FIRES
Bob Kirk
Prelude to Disaster: The Russian Revolution 1917

The world marks the centenary this month of the Bolshevik Revolution, a revolution dedicated to the pursuit of an impossible dream, communism. The dream evolved into a nightmare that produced an archipelago of harsh prison camps, a terrorized populace, widespread malnutrition, raging alcoholism, and the deaths of millions. Three years after Czar Nicholas II subjected his empire to the agonies of the First World War, the House of Romanov fell due to corruption, monumental ineptitude, and public outrage. Nicholas abdicated and was killed with his family. Parliament leader Alexander Kerensky tried to win the war, institute democracy, and hold the feeble country together, but Bolshevik leader Vladimir Lenin and his tiny faction of radicals took over and led Russia into a nightmarish abyss called soviet socialism. Worse was to come when, after Lenin died in 1924, the misanthropic monster Joseph Stalin tried to institute a utopia born and bred in terror.
The Bolsheviks were like children, trying to spell 'Utopia' – with the wrong blocks. Please join us as Bob explains the roles of Nicholas, Alexandra, the "holy man" Rasputin, Leon Trotsky, and "Uncle Joe" Stalin.

Oakmont resident Bob Kirk has spoken to Symposium over a dozen times since 1998. Bob's Ph.D. is in European history and he has long been fascinated by the by the Soviet experiment. Bob teaches for OLLI and for SRJC Community education. He's been teaching since the 60's and has lectured worldwide on cruise ships since 1986. Bob is the author of five books and is former president of the World Affairs Council of Sonoma County.
---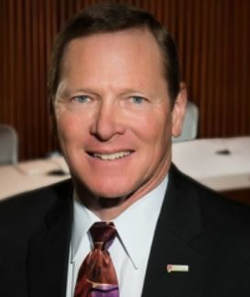 October 29, 2017
Tom Schwedhelm, Santa Rosa City Councilman
Issues Before the Santa Rosa City Council

Issues currently being discussed and decisions being made by the Santa Rosa City Council which will include:

- District Elections
- Housing First Strategy to End Homelessness in Santa Rosa
- Housing Action Plan
- City of Santa Rosa Cannabis Program
- The Annexation of Roseland

Tom Schwedhelm was elected to the Santa Rosa City Council in November of 2014. He served as the Vice Mayor in 2015. Prior to being elected to the City Council, Tom worked for 31 years with the Santa Rosa Police Department, retiring as its Chief of Police for the final five years of his service.

While on the City Council, Tom is currently serving or has served on the Water Advisory Committee, Homeless Policy Subcommittee, Rent Stabilization Subcommittee, City Council/BPU Liaison Subcommittee, Ad-Hoc Infrastructure & Housing Sub-Committee and is the Chair of the Santa Rosa Violence Prevention Partnership.

Tom has lived in Santa Rosa since 1980. He's has been married to Jackie since 1987 and they have two adult children, Nicole, who is a Research Coordinator at a Financial Firm in San Francisco and Troy, a CPA for KPMG also in San Francisco.

Tom earned his Associate's degree in Administration of Justice at Santa Rosa Junior College, his Bachelor's degree in Business Management at St. Mary's College and his Master's degree in Psychology – Organizational Development at Sonoma State University.
---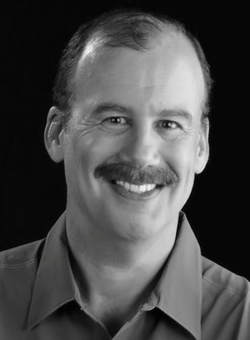 November 5, 2017
Dr. John Freedman
Big History, Part 2: Australopithecus to Artificial Intelligence

Big History' is a dynamic multi-disciplinary look at the story of humanity from the creation of our universe through the present. A mix of cosmology, astronomy, geology, biology, anthropology, and conventional historiography, Big History might be thought of as history for the intellectual ominivore. Join Dr. Freedman for Part 2 of this 2-part lecture series which seeks to put our human story into its largest context. For those who missed Part 1 ("From the Big Bang to Bonobos") a few months ago, a reference list is provided that covers key bibliographic and onljne resources for both programs.

Dr. John Freedman is an independent scholar and passionate world traveler who has explored over 150 countries on seven continents. He is a highly sought-after guest lecturer on cruise ships and riverboats worldwide as well as an experienced expedition leader and lecturer for numerous educational travel programs sponsored by prestigious organizations such as the National Geographic Society, the Smithsonian Museum, Yale Educational Travel, and the World Affairs Council.

John's highly acclaimed presentations combine serious scholarship with rich photographic content and an engaging presentation style. His presentations explore numerous aspects of the complex and profound relationships between geography, history, the natural world, and current geopolitical affairs.
A graduate of Brown University and Yale Medical School, John practiced medicine in Santa Rosa for 34 years and was a "founding father" of Santa Rosa's Kaiser-Permanente Medical Center and its Chief of Anesthesiology for 25 years before retiring from his clinical practice in 2014 to pursue his passion for lecturing and expedition leadership full-time. He keeps in touch with the medical world as President of Medical Exchange International, a non-profit organization that he founded in 1999 to support health care practitioners in developing nations. John resides in Santa Rosa with his wife of 30 years, Tina, a wine educator at St. Francis Winery

---